DSC is a non-profit organization with a long history of providing services and supports to children and adults with intellectual and developmental disabilities, currently serving approximately 1,200 people in Champaign and Ford counties. DSC partners with a clear focus on strengths and preferences to help design the level of supports needed to achieve personal success.
DSC's core services continue to fulfill our mission to "support people in living a rich and meaningful life." These services include: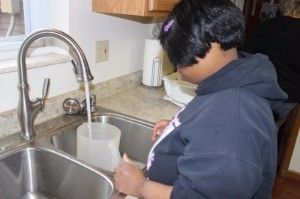 Works to ensure that individual needs are identified, assessed, planned for, and monitored through a person-centered approach.

An Early Intervention program that offers assistance to families of infants and toddlers who are experiencing or are at risk for delays in development, or have identified special needs.

Assists individuals in achieving greater levels of independence and self sufficiency through individualized instruction and support in community settings, vocational training sites, and center-based activities.

Provides community-based residential housing alternatives such as group homes, a supported apartment complex, as well as individualized training/support to maximize independence.

Provides evaluation, training, employment, and support services that maximize independent living skills toward community employment and self-sufficiency.