What is an Advocate? What Can You Do?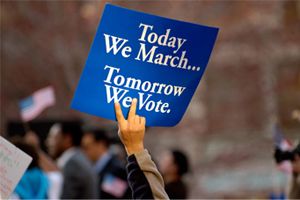 An advocate is someone who helps others speak up for themselves, or listens carefully to what another person says and speaks up for that person's needs and wants.
DSC is a leader in advocacy. For many years, the State of Illinois has continued to decrease funding to people with disabilities and over the past few years, these cuts have become drastic, affecting the lives of thousands in our state.
DSC's Board of Directors and Management Team firmly believes that it is our responsibility to advocate on behalf of children and adults with developmental disabilities in our state and together we work to lead the way in these efforts.
As specific advocacy needs arise, we will post information on our home page and provide email blasts to our supporters. Are you on Facebook? If so, "Like" "DSC" (@DSCChampaign) and you will receive the most up-to-date information.
If you have questions or would like to participate in our efforts, please contact Jodie Harmon, Director of Development and Communications, at jharmon@dsc-illinois.org.
---
Spread the Word to End the Word
"The R-word is the word 'retard(ed)'. Why does it hurt? The R-word hurts because it is exclusive. It's offensive. It's derogatory.
The Spread the Word to End the Word campaign asks people to pledge to stop saying the R-word as a starting point toward creating more accepting attitudes and communities for all people. Language affects attitudes and attitudes affect actions. Pledge today to use respectful, people-first language."