Mid-Year Appeal

July 3, 2019
Dear Friend of DSC,
In our daily lives, we sometimes take our independence for granted. Celebrating the anniversary of our nation's Independence Day reminds us of how important freedom and independence are for each of us. At DSC our mission is a daily reminder of the importance and value of independence as we support individuals with intellectual and developmental disabilities to reach their personal and employment goals and dreams. 
DSC serves approximately 1,100 children and adults in our community, providing each person with individualized services and supports tailored to their unique talents. With these personalized services and supports, people are able to achieve independence…just like Darren.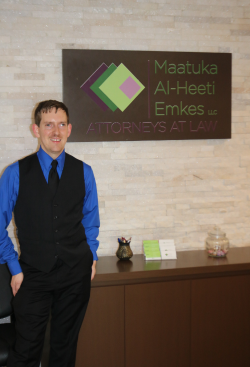 Darren has been receiving services at DSC since 2005. Since that time, he had been working with DSC's Case Management Program, to prepare for transitioning out of high school. In 2007, Darren began working at one of DSC's internal worksites and also enjoyed activities, such as The Prompting Theater. Darren was happy with his job, but employees at DSC knew he could be successful working in the community and offered him an opportunity to participate in the DSC Job Club.
Job Club is a 12-week program that focuses on successful employment habits including interviewing, positive interactions with work peers, boundaries, and other skills that allow for success at work.
Through this process, Darren expressed his interest in cleaning, so after completing Job Club, a job match was made for a position at a local attorney's office, Maatuka, Al-Heeti & Emkes, where he takes care of cleaning duties for the office. "They spoil me there," said Darren. "They treat me like an employee. I feel at home there," said Darren. We all know that working provides more than income; we create new social networks, gain self-worth and self-respect.
There are many people, living in our community, who are eager to have the opportunity to receive the types of services and supports Darren is enjoying. As we continue our efforts to change more lives like Darren's, we ask for your financial support to help us offer independence for all who receive, and are in need of DSC services. By making your gift today, you partner with us to promote independence and celebrate its true meaning!
Sincerely,
Dale A. Morrissey                                                                                                                            Janice E. McAteer
Chief Executive Officer                                                                                                                 VP of Development &Communications
P.S. Please make your donation today and help us reach our goal of raising $10,000 by July 31st!