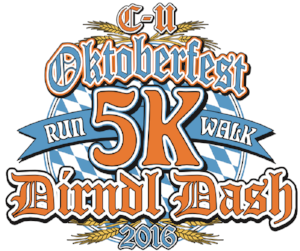 C-U Oktoberfest Dirndl Dash
Saturday, October 1st - Registration begins at 10:00 a.m. - Race starts at 11:00 a.m. - Crystal Lake Park, Urbana, IL - 5K Individual Early Registration Cost: $30 ($35 after 9/24)
Join the fun in the Inaugural Dirndl Dash! What a way to start out Oktoberfest by having some fun with friends and exercise. Run or walk...the choice is yours!
Crystal Lake Park, with its well established 5k route, will provide beautiful surrounding for a fun morning event! Participants will be encouraged to invite friends and wear their best dirndl and lederhosen. The first 250 participants will receive a free commemorative Oktoberfest stein while all participants will receive a medal when crossing the finish line.
The Dirndl Dash Run/Walk is kicking off a day of festivities in celebration of the 4th Annual C-U Oktoberfest. The C-U Oktoberfest is a fall celebration of music, beer, and food held in downtown Champaign. Patterned after the annual festival in Bavaria, the C-U Oktoberfest features live music from bands playing festive polkas, waltzes, and traditional German music...mixed in with plenty of your favorite songs. Beer from local brewers will be available. Party-goers are encouraged to get in the spirit by wearing their best dirndl or lederhosen and dance the nigh away! Doors open at 3:00 p.m.
All proceeds from the C-U Oktoberfest festivities benefit Developmental Services Center (DSC) to help further their mission, "To enhance the lives of individuals with disabilities by providing services and supports which enable them to live, work, learn, and participate in their communities."
For information on where to park, please click below.
How Do I Register?
Simply click this link! http://getmeregistered.com/DirndlDash5K
Race Features
Crystal Lake Park ~ Chipped Timing ~ Awesome Swag ~ Sweet Finishing Medals ~ Schnitzel Squads ~ Fan Squads ~ Post Race Activities ~ A Barrel of Fun!
Schnitzel Squads, Challengers, and Fan Squads
Schnitzel Squad: Early Registration Cost: $25 for each registrant ($30 after 9/24)
Grab your friends and co-workers and sign up as a Schnitzel Squad!
Come up with a Squad Name; and a way to keep your Squad linked the entire race. Dress up - have fun!
Awards given to the FASTEST-Squad, The most-creative Squad, and The Longest Squad (most connected Squad members)!
Challengers:
Are you competitor and want to support a great local charity? 
Sign up as a Challenger:
I will donate $___ for each person I beat:
- Every runner that beats me.
- Or Every Male or Female that beats me.
Something extra for Challengers! We are so thankful for you accepting the challenge & helping DSC we want to know who you are! For you, an alpine hat and beads!!
Fan Squad
Don't want to run but still join the fun, ask about joining a fan squad! Bring one friend, or bring them all and join a fan squad! Our fan squad will be lining the course to cheer on the runners as they dash!
The Fan Squads are coming! Parkland College will be cheering you on from Mile Marker #1!!  "That What She Said" will be at Mile Marker #2!  Mettler Center will be at Mile Marker #3, and Bedinger Farms will be near the Finish Line! Who will be next? Stay tuned! See the Race Map below for Fan Squad placements.
Finish Line
You will be decorated with your medal and if you finish in the top 250, you will be walking away with an Oktoberfest mug! Awesome!
Race Map
A view of the course map is below. Racers will run two loops to complete the 5K.
Race Map with Fan Squad Locations
Sponsorship Opportunities
If you would like to become a sponsor for this full-filled event, please click the link below or contact:
Bob Ballsrud at (217) 351- 2707 or robert.ballsrud@busey.com Or Rebecca Bedinger at (217) 390-2189 or ippatsu2@gmail.com
Additional Information about C-U Oktoberfest
11am-1pm                    Dirndl Dash ~ Crystal Lake Park
3:00pm                        Party Begins ~ Downtown Champaign
3:00pm-6:00pm        Family and Children's Activities
4:00pm-8:00pm        Die Musikmeisters - Live Music
8:30pm-10:00pm       The Polkaholics - Live Music
10:30pm-Midnight     Bolzen Beer Band - Live Music