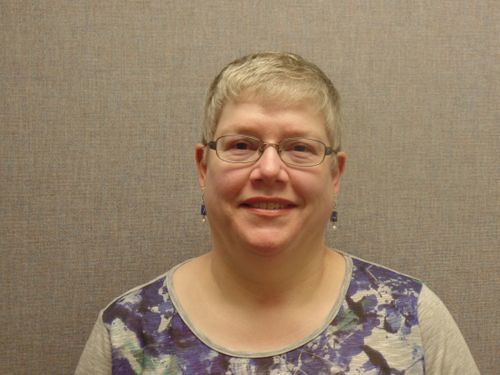 Meet Anna!
This month we are celebrating amazing DSPs all around the nation and especially here at DSC. They are the heart and soul of everything we do to help people with disabilities feel, and be, included in the community!
Anna's son passed away in 2011. He was 30 years old, and had intellectual and developmental disabilities. As a parent of an adult child with disabilities, Anna acquired 30 years of experience in advocating on behalf of people with disabilities and direct support experience. Although most of her career background was in customer service, and administrative support, Anna felt that working at DSC would be more meaningful to her.
Anna Withrow will celebrate her 7-year anniversary at DSC in December. When she first began her career at DSC, she started by working as an Overnight DSP (Direct Support Professional) at the Trowbridge CILA (Community Integrated Living Arrangement). She later transferred to working at the front desk at DSC's main office on Bradley Avenue. "Working at the front desk gave me a new perspective. When I worked overnight at a CILA, I only knew what was happening in that home. Working at the front desk gave me the opportunity to learn about other departments. One time I took minutes at a Board meeting. It was a great learning opportunity." When the overnight position opened again at Trowbridge, Anna decided to return to the Residential Program, where she felt she could most benefit DSC at that time. In 2019, she accepted the Health Advocate position, where she works today.
DSC Health Advocates are part of the Residential Program, working alongside Case Managers and CILA staff. Their primary role is to provide medical advocacy. This includes assisting with communication, setting appointments, canceling and rescheduling appointments, providing transportation to medical appointments from homes, or work, assisting with telehealth, and maintaining open relationships with medical providers.
There are times when Anna may have to speak to different providers on the phone. Other times, it may be advocating on behalf of someone who isn't able to communicate on their own. Anna explained to us how her time working at the Front Office and customer service experience helped to prepare for this part of her position. "In most cases, we have great relationships with our medical providers," said Anna. "There are some days, when I need to take someone to Convenient Care. That's when I think it's important for me to stay calm. I may look like a calm duck on the water, but I'm paddling like heck beneath the water. I don't want to create unnecessary anxiety in the person I'm supporting, but I will get moving and do what needs to be done to provide the best support."
What Anna loves most about her job is working with the population supported by DSC. "It goes back to my son. The work I do here is very meaningful to me. I also love the staff here. If you need help with a project, or have a question, you can ask someone here. We cooperate with one another because we know that we're all in this together, and working toward the same mission. We need each other."
Outside of Anna's work at DSC, she is very close with her mother, who is eighty-seven years old. When her mother feels up to it, they enjoy going out to eat at nice restaurants. Anna also enjoys reading, especially a good mystery book-no fluff books.
We thank and celebrate Anna for her work and accomplishments as a DSP!