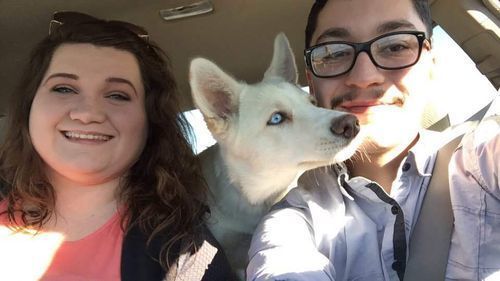 Meet Eva!
Eva Paz is a CDS (Community Day Services) Specialist at DSC. She began her career at DSC in 2014, in Rantoul.  She was working as a CNA at a nursing home when she heard about DSC from a co-worker and decided to apply. After interviewing with Laura Bennett, Eva was hired as a CDS (Community Day Services) Instructor in Rantoul. After working in Rantoul for about six months, she was promoted to a Program Writer.
When the Rantoul location closed, Eva made that transition with the people she supported, and they all relocated to DSC's Bradley Ave. office in Champaign. With time and experience, Eva also began supporting people from Champaign, in addition to the initial group she worked with from Rantoul. Eva told us that she did leave once to explore another type of work. "I left for eight weeks. I learned I'm not the type of person who can sit behind a desk. I need to work with people. I called DSC, and asked if they'd have me back. I'm so grateful they said yes. The position I'd left had already been filled, but I was able to return as a DSP (Direct Support Professional. Sometimes, you discover the grass isn't always greener on the other side," said Eva.
In Eva's current role as a CDS Specialist, Eva spends her time at DSC coordinating a small group, in addition to writing plans for people where she is the central point of contact for around eleven individuals on behalf of the CDS program. She meets with them to learn about their goals and interests, and stays in touch with each of them to see how things are going, and makes adjustments along the way, as they provide feedback. "When I worked as a CNA, I was taught to do things for people, whereas at DSC I've learned to support people to do things for themselves, as independently as possible."
Eva shared an example of this principle in action. "I was once working with a person who wanted to be able to order her Diet Coke at McDonald's without assistance from others. We worked on her voice projection and wheelchair maneuvering. With practice, she was soon able to accomplish her goal, and I stood back and had the pleasure of watching her order her Diet Coke. That is very gratifying to me."
What Eva enjoys most about her position at DSC are the people. "I know firsthand; I cannot work without being around people. When I tell others about what I do here, it doesn't feel like a job. It sounds more like I'm cheering my friends on all day. DSC is my home."
When Eva's not at DSC, she enjoys many outdoor activities with her husband Adrian who also works at DSC. They like to go kayaking, camping and you can often find them hanging out with friends and family.