The Sprau Family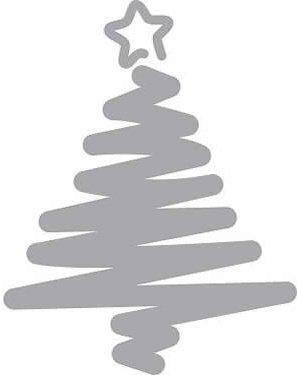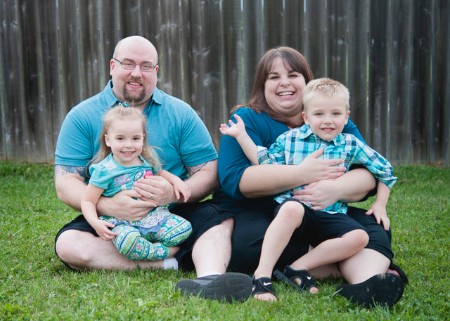 As a newly married couple, we were very excited when we learned we were expecting our first child in February 2013; Alex was born on January 31st. We were so happy to be first-time parents, and our parents were simply thrilled to have a grandson. In his first year of life, Alex met all his developmental milestones and we were enjoying our new lives. As Alex got closer to his first birthday, we noticed his language skills were delayed; he simply was not using words.
Our worry about his lack of verbal abilities led us to initiate a conversation with our pediatrician. One appointment led to the next until we landed at an early intervention screening provided by DSC that showed Alex qualified for developmental and speech therapy, which he began receiving just after he turned two years old. We also began participating in DSC's playgroup. Alex responded well to therapy, but his words were still minimal.
In the midst of seeking more information about why Alex's language skills were delayed, we found out in late 2013 that we were expecting our second child in September 2014. Our daughter, Lexi, was born on August 14, 2014. Lexi was another amazing gift and our collective families were so happy! During our pregnancy with Lexi, more testing and referrals continued for Alex as we persisted in our efforts to understand how to better help him.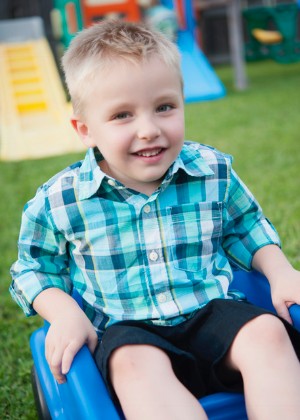 As parents, we tried our best to understand what Alex needed or wanted, but most often, it was a guessing game of trial and error. He would often lead us by our finger to the area of what he wanted. If we thought he wanted a drink and handed it to him, we would find out if we were correct by whether he took it and drank it, or if he threw it down in frustration of us guessing incorrectly. In that case, our quest continued.
In October 2015, Alex was diagnosed with autism. His diagnosis was hard for us to hear, but we were relieved to understand there was a reason for his lack of verbal skills and mounting frustration. Shortly after receiving this diagnosis, Alex began P.L.A.Y. Project, through DSC. We were happy to learn that P.L.A.Y. Project is an evidenced based early intervention autism program where trained professionals help parents become a partner in their child's autism care. Along with P.L.A.Y. Project, Alex also was enrolled in preschool, and we began to see and hear changes with him. He was beginning to use words!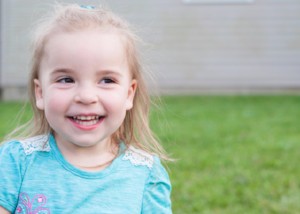 Alex has benefited from the therapy and skills taught to us all in the P.L.A.Y. Project. We are extremely fortunate to have Alex and Lexi's paternal grandma who is our caregiver every day while we work, so the therapy we receive happens in our home. Without the support of DSC and our family, we cannot imagine how we would make it through some days, let alone weeks, months, or years.
Around the same time, Lexi was getting ready to turn a year old. She, too, met all her developmental milestones.  However, like Alex, she was also not speaking. With knowledge of the process this time, Lexi received an early intervention screening through DSC and qualified for developmental therapy, and eventually P.L.A.Y. Project. Lexi's nonverbal communication was similar to Alex's; however, if we guessed incorrectly at what she wanted, she simply would not accept what was offered.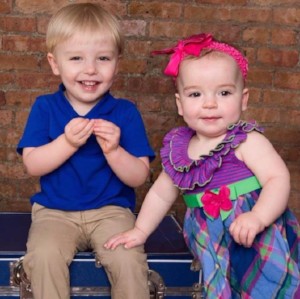 In May 2017, Lexi was diagnosed with autism.
Today, Alex is almost five years old, and Lexi is just over three. Their collective autism diagnoses offer challenges, frustration, happiness, successes, and more challenges. Though they are both able to communicate better, they still struggle to express themselves. Alex has started screaming for no apparent reason. He can be upset, excited, angry, or happy. While his screaming will stop and start, it can last for a while. Alex has also become territorial with his space and belongings. If he perceives Lexi is in his space or if she plays with a toy that he thinks belongs to him, he will hit her. He is very impulsive.
Lexi, on the other hand, has more sensory sensitivities. She loves music and will often recite lines of songs as a part of her communication. She will also encourage us to sing or recite lyrics with her, but there are times that it is too overwhelming and she will get upset.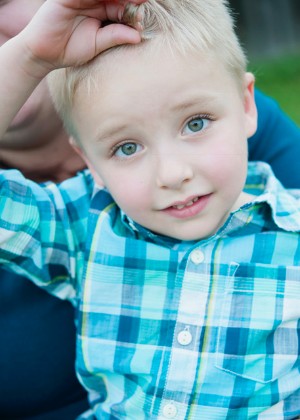 Both Alex and Lexi are "runners". We are unable to go to a park, attend festivals, or go out to dinner. We cannot jeopardize their safety as they can easily pull away and start running with no understanding of the dangers of streets, highways, or bodies of water.  And, we cannot control Alex's screaming.
Through it all, DSC continues to be there in a supportive role that often feels like a lifeline!
It is exciting for us to think about the skills Alex and Lexi will develop as their futures unfold, but at times, it is equally overwhelming to think about the challenges they face. What we do have in excess is gratitude, faith, and hope. We recognize how lucky we are to have our families, who support us unconditionally, find comfort and peace in our faith and our church, and we are so appreciative of DSC and our community, who help in giving us hope. The services we have received have offered us a path of understanding that we are not alone in raising children with disabilities, rather, we are part of a larger community that cares and will offer us support along the way.
Please help light the way for our family and many others by making your Tree of Hope donation today!
---
Thank You Sponsors
Without the support of our sponsors, the Tree of Hope would not be the success we have come to truly appreciate and value! The sponsors for the Tree of Hope Campaign, completely underwrite the cost of the campaign, allowing every donated dollar to go directly to services and supports for the individuals and families in our community.
DSC Corporate Sponsors take their commitment one step higher. As a result of the level of their sponsorship donation, they have pledged to become a partner with DSC in helping us fulfill our mission. These companies and/or foundations will be recognized at every DSC fundraiser as they truly are our partners. 
Corporate Partner Sponsors
---
Level I Sponsors
---
In addition to the Level I sponsors, we also value each and every sponsor who supports the Tree of Hope campaign.
Level II Sponsors include: American Dowell Sign Company, Horizon Hobby, LLP, Kemper CPA Group, LLP, Reynold's Towing Services and Roger & Jane Webber.
Level III Sponsors include: Christie Foundation, Commerce Bank, Cozad Asset Management, Inc., Down Syndrome Network, Farm Credit Illinois, Greater Champaign County AMBUCS, RSM US LLP, Kevin & Nancy Sullivan, Sweet Pea Photography, and TSM Ventures, Inc.
Level IV Sponsors include: Advance Auto Parts, Bank of Rantoul, Bartell Powell, LLP, Body N' Sole, CMI, Edward Jones - Walt Ruesch, Hickory Point Bank & Trust, Hudson Drug & Hallmark Shop, Kingdom Lawn Care, Northwestern Mutual, The McClure Financial Group, Peter B's Automotive, Lynn Ryle, and USI Insurance Services.